How to Make Money Groundskeeping?
Readers have been asking me how I make money groundskeeping. In this article I'll give you the rundown.
It's simple and can get you out of the 9-5.
I quit my job back in 2016. I didn't have a plan so I drove for Uber. For the first month Uber was great.
As more people signed-up, my money went down. For every customer, you'd find 3 Uber drivers competing.
When I first started, I made $75 for two hours of driving. Now I was making $75 for six hours of driving.
This kind of money wasn't going to work. I sent out proposals for contracting work.
Everything from newspaper delivery to something called groundskeeping.
In the end I received a call from a property manager while on vacation in Myrtle Beach.
I was offered 3 properties for $1,920 a month.
It would take 4-8 hours a day, 6 six days a week. Break that down and I was making the equivalent of $14 an hour.
The work was easy, but humbling. It wasn't unusual for me to pick up used diapers and busted trash-bags.
They provided me with a backpack blower and gas. This was great as I didn't have much money in those days.
Groundskeeping is what allowed me to pay my bills while working on my business. During my time as a groundskeeper I ACTUALLY had money.
With this money…
I started a drop-shipping store.
Lived in Los Angeles for 3 1/2 months.
Worked and learned from the legend, Victor Pride.
And most importantly, I put more time and money into my craft.
Being a groundskeeper gave me money while I figured out my mission. The same can happen for you.
What Is Groundskeeping?
As a groundskeeper you keep people's property clean. Everything from picking up trash to blowing leaves.
People will pay you good money to pickup trash.
More than likely you'll start as late as 10 PM or as early as 3 AM.
This schedule isn't for everyone. Only a small percentage of the population can work while others sleep.
An even smaller percentage can work at night while still killing it in life. If you're one of the few there are some benefits to groundskeeping.
Benefits of Groundskeeping.
The benefit of being a groundskeeper is freedom. Freedom to go at your own pace. As long as the property is cleaned, you're good.
You may get paid for 2 hours when it only took you 45 minutes. This isn't always the case but you will experience it.
When I first started groundskeeping, I felt like I wasn't doing something right. It seemed too easy.
I still had an employee mindset.
It'll take you a few months to adjust as well. You'll work alone and sleep while other people are awake.
Groundskeeping is for the man who wants to hunker down. While you're out cleaning, it's just you and your thoughts.
Once you're back home it's time to rejuvenate and work. Groundskeeping isn't something that you want to do long-term.
Do it for two years at most. Get your money and then go ghost.
Come back only when you want to hunker down and stack some cash. It's nothing more than a means to an end.
The end being whatever it is that you want. For me it was stacking money while focusing on my craft.
Getting your first bit of work is easy. You can either start your own groundskeeping service or use get hired via Craigslist.
How to Start a Groundskeeping Service?
Most properties have contracts with groundskeeping services already. You will have to outbid them.
Learn the pricing in your area by calling 3-4 local groundskeeping services.
Act as if you're wanting their service and get a quote.
Use this quote as a way to create your offering. Later in this article I talk more about the money side.
For now let's talk about how to find your first property.
How to Find a Property?
To find your first property, use your eyes. Check out parking lots in your area.
Find the ones that look dirty.
Make sure to always check behind the building as well. Everything appears okay in the front, but the back is a dump.
Google the numbers for each of the places that you find. After you've found 5-10 properties, call them.
You want to talk to the property manager. They are the deal makers in this business.
There are a few ways to get in touch with the property manager.
One is to call the store and request the property managers info. Make sure to ask for the store manager.
Your average employee won't know this information.
If they ask any questions, just tell them that you run a groundskeeping company.
The other way is to go directly to the property management company.
To do this, Google, "property manager of (the property and address)".
From there you'll find the property manager's information.
You can structure your deal however you want to. Keep in mind that these companies can drop you easily.
Create a contract that lays out everything from the get go. List out exactly what you're doing, not doing, and what you expect from them.
Get everything in writing!
This will protect you from potential lawsuits and from being cheated.
Do good work and you will gain access to their other properties.
How Much Money Will You Make?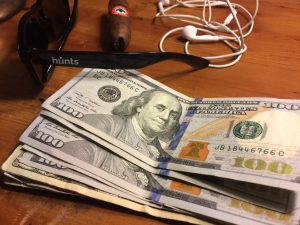 For your average parking lot, it'll take an hour. To determine this walk up and down from one end of the parking lot to the other.
This should give you a time estimate. If it takes you 30 minutes, add on another 20 minutes to account for picking time.
You can charge $35-85 an hour for lot cleans. This means that you go through the lot with a trash grabber, bucket, and leaf blower.
Let's say you charge $55 an hour.
Your agreement is that you'll come 5 days a week. That's $275 per week which is $1,100 a month.
Your goal is to get in there and get out. If you clean four properties it should take you 4 hours in total each day.
Realistically you can work 4 hours a day, 5 days a week and make $4,400 a month. Take money out for taxes and you're left with $4,000.
Keep in mind that there will be other expenses.
And if you really want to do this business right, hire somebody. Pay them $2,000 a month to do what you did.
How to Hire a Groundskeeper?
Your toughest part will be finding reliable people. Put your ads on Craigslist and other job platforms.
Include the pay, what you're looking for, and your contact info.
It always helps if you put an image on your ad as well.
You can use this template if you want.
Just copy and past the text into Craigslist. From there customize it to fit what you're offering.
Once you hire a groundskeeper, setup a 1099 agreement with them.
This means that they are self-employed. You can write off the full $2,000 during tax time.
Let them worry about their own taxes. From there bring on more properties and manpower.
Your goal is to have one groundskeeper for every 4-8 properties.
Some properties may take two people, but most lots can be handled by one person.
After you've built up a nice portfolio look for a manager. Pay him a few dollars more per hour than your other guys.
If someone doesn't show up, your manager will fill it.
This will let you focus on whatever it is that you want. Whether that be living in Asia, writing, or going to Cali.
Your manager is your second-hand guy. Treat him with respect.
If you go this route, you'll make the most money. The catch is that you'll need to setup a full business.
I'm talking about a business licence, LLC, and business bank account. Do your own legal research.
You're looking at $500-$2,000 to set this up. If that's too much at the moment, let's talk about the easier and cheaper way.
The easy way is finding work on Craigslist.
How to Find Work on Craigslist?
To use Craigslist you'll be checking twice a day. Look for groundskeeping, landscaping, and other similar services.
From there reach out to them via email or phone. Tell them you're looking for work and give them your price.
Start at $15 an hour and don't go below $13. Companies want the maximum value out of you for the least amount of money.
You are going to setup a 1099 with the groundskeeping service that you choose. They will have all of the paperwork for you to fill out.
If they don't give you the paperwork, request it. A lot of these companies pay people under the table.
I don't recommend doing that, but it's up to you.
Being a 1099 means that you're responsible for your taxes. You'll probably owe the IRS around $700 for ever $10,000 you make.
So take out 10% from each payment you receive.
Record your miles driven and ALL expenses related to being a groundskeeper. That means your cell-phone bill and equipment.
All of this will be used as a tax write off.
When it's time to do taxes you'll have everything in order. Hire a good accountant and they'll take care of everything else.
In my case he saved me a lot of money. For the small price of $125, I saved thousands.
Groundskeeping Equipment.
If you use the Craigslist method. Most of your equipment should be provided. Equipment such as gas, trash-bags, and a blower.
However there are two specific tools that'll make your life easier. They make you more efficient and take less effort.
My number one recommendation is the trash grabber below.
It'll come in handy after you've picked up hundreds of pieces of trash.
The second piece of equipment is a 5 gallon bucket.
The bigger the bucket, the more trash you can pick.
Groundskeeping while dirty, is the next step to your freedom.
So far one reader has taken advantage of this line of work.
His name is Luke. I may bring him on to talk about his experience.
In the meantime, I want to see you do what needs to be done. This is the year that everything clicks.
That is if you take daily action.
If you don't then they were right about you.
Here are your steps to getting started:
Choose Your Method
Make Money
You can also download my free Craigslist Template + Bonus Video. Click here and tell me your best email.
Your friend,