4 Ways To Quickly Make Money During Quarantine
They say the best times to make money are when the risks are higher. If you've got the guts to act, here are 4 ways to quickly make money during quarantine.
You see it everyday on the news, people are scared. Millions are filling for unemployment. What's the future going to be like?
The answer is simple. Nobody knows.
Not even the so called experts on TV.
Which leads you and I to this very article. You are in the perfect position to not only make money during this quarantine and pandemic.
You're also perfectly positioned to come out of it with your own side hustle. Providing you with another source of income once real life resumes as it always does.
Because if you've learned anything, you know by now there's a period of fear of the unknown and then people get back to their normal life.
It's happened before, it's happening now, and it will certainly happen again. So tighten your belt and let's get to work.
We Are in One of the Best Times to Make Money I've Seen
In all of my life, I've never seen such a fantastic time to make money. You see, when everyone is locked up in their house.
The last thing they are thinking about is buying brand name items. All they're thinking about is selling what they have, buying things at a great price, and surviving.
Which are 3 things I am going to show you exactly how to monetize while in this article.
But where are my manners. You probably have no idea who I am yet or you've been one of the thousands of regular C&C readers.
Either way, it's time for us to get acquainted….
My name is Dylan Madden and much like you, I got started by trying to figure out more ways I could make money.
Which lead me to some of the hustles you're about to learn here. So when I tell you something, it's from my own direct experience.
It was starting with getting my own side-hustle that I was able to pay off my debt. Including a $11,000 car note.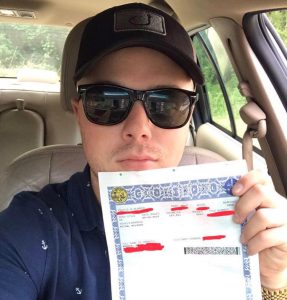 And it was my side-hustle which allowed me the freedom to figure out what I really wanted to do with my life.
Which is part of the reason I'm writing this to you from the country of Qatar.
But in order for you to get the most out of your side-hustle. You will need to cut back on your spending.
Because one thing this pandemic has shown all of us is how quickly things can change in a matter of weeks.
We went from hearing about some virus. To all flights being locked down and now being quarantined inside our homes.
Many losing their jobs in the matter of a month or two. From engineers to other "well paying and safe jobs".
So since you're about to start making more money, it's also time for you to start spending it smarter. So in the event this is prolonged or happens again, you will be prepared.
Quarantined Finance 101
For me personally, I realized how many pointless things I was spending money on. Ordering out every meal. Buying cigars every few days. Ubering everywhere a few times a day.
I don't know about you, but spending that kind of money when instead I could've saved most of it.
Having most of my meals cooked, getting 1 cigar a week, and only going out once or so a week. Doing this the first month of quarantine put another $700 in my pocket.
While I don't know your finances, I do know you probably spend more money on things than you should.
Now don't get me wrong, I'm not one of those penny pinchers who skips my $5 cup of black coffee.
You still have to enjoy yourself and the money you're getting.
However, if you don't have kids there's really no reason to live in a 2 bedroom apartment. When you could rent a one bedroom.
There's no reason to drive some nice car if you're not rich or using it to make you more money.
Instead of having that $450-$750 a month car payment, when you could pay $2,000-$4,500 and have a good running car.
And if you're accustomed to eating out all of the time. It's time to start cooking most of your meals.
Not only will you be healthier, you will also be saving tons of money. What I spend to have 2 meals a day for 4 days here. Would cost me about that just for 1 or 2 meal out.
So by cutting your expenses you will free up money to pay off any debt you may have, build up your savings, and use it to make you even more money as you're about to see.
What Do You Need in Order to Make Money During Lockdown?
The great thing about the work you're about to do is you've got most of what you need already. Anything extra can be borrowed or rented for basically nothing.
It's up to you if you want to get a business license and set everything up the way your State regulates.
Once you've got those two things sorted, you're ready to get started.
4 Ways To Quickly Make Money During Quarantine
1) Quarantine Cleaning Business
This is one of my favorites. As it is easy, flexible, and you make good money with only a few people using your service.
If I were still in the States I'd be running this as we speak. I focused on apartment blocks, boats, and shopping centers.
Since you're just getting started I'd focus your efforts on apartment blocks and then local residents.
Frame your service around the current pandemic. Better yet when you show up to your job have on a full hazmat suit.
You'll be sanitizing bathrooms, apartments, and houses. Since you're at risk, you can charge premium prices.
In my area, I charged $100 an hour depending on the place I was cleaning. Just look at what your market is charging and price yourself around what their prices are.
This hustle will require the following tools:
Trash bags
Cleaning supplies
And a hazmat suit (or at least a mask/gloves)
All of which you can get for your local store and even order online to be shipped to your house.
How do you go about getting customers?
To get your first few customers you'll start off by posting your services on Craigslist. From there you can open up Google and begin reaching out to people via email/calling them.
You're aiming for houses, apartment blocks, and businesses in your area. At a time like this people are more conscious than ever of being clean meaning you can use this to your advantage.
And then step out of this current pandemic with a list of customers paying you week after week for your services.
2) Running Your Own Local Moving Company
People need things moved to storage units and some people are in the process of moving.
This is where you step in with your own moving company. Most people overlook this, but it's very lucrative.
When I stumbled on it back in 2017 I added this to what I was offering. Within a short amount of time I started making an extra $125-$200 here and there.
How to get customers?
To get customers you simply post your ads.
Whether this is on Craigslist or your own Facebook business page telling everyone about your service.
Once again like with any business, the more places you advertise. The higher your chances of getting someone are.
Another fantastic way to tell everyone about your service is to go to your local U-Haul's and storage facilities. Give them your business card and tell them about what you do.
If you present yourself well they will take you much more seriously than the usual types of people they see.
And will send business your way if anything comes up.
Just remember to take care of them.
For me, I'd slide the lady at the counter a 20 dollar bill inside a box of doughnuts every time I finished a job.
This kept her happy and motivated to send me 1-3 people each weekend.
What should you charge?
When it comes to charging your customer it is entirely up to you. For me in the beginning I undercharged until I saw how much other people were making.
At the start I charged:
$25 per hour
They paid for gas/the U-Haul
I'd either meet them at U-Haul to pick up my truck and then go with them or they'd already have it at their property.
Just make sure to check out your local prices for moving services. In the beginning, be cheaper than them while providing better service.
This will make you stand out very quickly as most people are careless and offer subpar customer service.
Most jobs usually take around 2-5 hours so I recommend charging $50 to $75 per hour.
Meaning if you charge $50 an hour you'll be looking at $100-$250 per job. Combine this with flipping and you see the potential income you've got coming in week after week.
3) Power Washing Your Way to Cash
This is a hustle I only did a few times, but I've got a student who does this as their main thing.
You start by offering to power wash your neighbors house. Doing everything from the drive-way, gutter, or their front porch.
Charge $50-$150 per job depending on how much work you'll be doing.
Lock down 4 houses in your neighborhood and you're looking at some good money all for about 45 minutes to 2 hours of work per property.
Obviously if it's going to be a big job you will charge $125-$150.
And after we get out of this lockdown you can begin reaching out to local businesses as you can charge them more than home owners.
Grocery stores, restaurants, and shopping centers are great places to get added to your customer list.
For this hustle you only need:
A power washer
Brush + bucket + soap
4) Flipping Everyday Items Online For Profit
Many are looking for quick cash. Meaning you can get an item for $50 which usually goes for $80-$150.
Better yet, there are people who just want to get rid of the clutter in their homes now that they're being forced to stay inside.
So someone such as yourself can come in and take it off their hands for free and then list it for 100% profit.
Here's a list of items to keep your eyes open for:
Appliances
Gaming systems (hot right now)
Furniture (leather couches especially)
And TV's
The list goes on and on. But to keep things simple for you. Focus on the items above.
With those items you'll be turning anywhere from $10-$150 profit per item you sell.
As for where you'll be listing your items two good places to start are Craigslist (Gumtree if in the UK) and Facebook Marketplace.
There are other apps such as OfferUp which are just as good.
Remember: the more places you have your items listed, the more potential buyers you have.
Just to give you an idea of the money you can make with this…
Let's say you get a leather couch for $80 and sell it for $190. You've got $110 in your pocket. But you aren't just selling a single item.
You also have a few more items you've listed. Some you're selling for a $10 profit and others a $75 profit.
As you can see these numbers add up quickly.
Within a short amount of time you'll be making an extra $150 to $300 a week in your free time. Which as of now with the lockdown, you have plenty of free time on your hands.
For more of a break down on this, you can read about how to make your first $1,000-$3,000 on Craigslist here.
Bringing It Together
Each of these hustles can bring you in a few extra hundred a week minimum with only your cellphone and basic supplies.
And all you really need is a cellphone, basic supplies, and transportation. You don't need a website.
From there you will be using things such as Craigslist to make money.
Then reaching out to people via email and phone. Do this and you're sitting on well over $800-$3,000 a month in extra income.
You now have a clear understanding of how to make extra money during and after quarantine.
So that while other people are struggling to get back to normal, you're being proactive and coming out even better.
Doing everything from….
Spending your money wisely
Flipping items online for profit
Having a moving company
Power washing service
And your very own cleaning business
Everything you need to know to get started is within this article. Pick one and get started today.
It's really that simple friend.
Now that you've got the money side down. We're going to go over the number 1 thing you will have to accept in order to change your life.
Few ever do, which is why most will never be a success. You'll see them repeat the same mistakes over and over.