24 hours in Morocco without any money 😱
A lesson on mindset & the power of having friends…I've traveled the world for 3 years. I know to notify my bank ahead of time. Also to bring a comfortable amount of cash you can exchange for the local currency in emergencies.
That's what I wrote about in my article for you on international travel.
24 hours in Morocco without any money
You can watch the video below or continue reading until the end. This story is both entertaining yet you will also walk away with 2 lessons.
Let's get started.
Yet nothing I'd learned prepared me for my first day in Morocco…
The day before flying I was racing through the Transylvanian mountains with Andrew Tate.
He in the Lambo and me in his Porsche.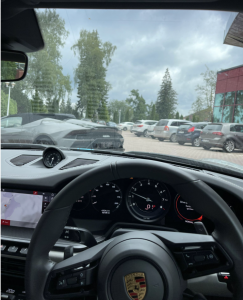 I skipped sleeping to maximize the time I had in Romania as it had been almost 2 years since I'd been there.
Fast-forward 8 hours from leaving Romania and I was in Rabat, Morocco. DentesLeo has his driver pick me up and take me to my hotel.
I couldn't wait to shower and write up a client email around an idea that popped into my head on the flight.
But then…
As I gave Ahmed (the front desk worker) my card he said in broken English, "Error sir it not go through". I smiled as that account had enough cash in it to stay in Rabat for 4 months if I wanted to.
I checked my banking app and said to try again. Error 😡. To make a long story short as this isn't the interesting part, my bank wasn't accepted in Morocco.
Luckily, in a dream that night my mind reminded me of a long forgotten biz card I have for one of my corporations. This card worked.
Now this is where having access to zero money got interesting.
Imagine for a moment that you've got more money than you've ever had. Yet you can't even pay for a $1 coffee. Understand, I have been broker than broke. The feeling of being at your most powerful – yet not being able to do do something so simple is far worse.
But…
Being broke for so long as I struggled to figure out how life really worked. All those moments of failure and doubt. They all crafted an Iron Mind. This trip would've taken a terrible turn had I not spent years without much.
I want you to value where you are right now. YES, it is frustrating. However, it is making you a pillar of strength and teaching you self-reliance. You being broke gives you a massive advantage.
Now you're probably thinking I was homeless for the night. Which leads me to the next lesson you can walk away from this thread with.
The big lesson on why you need friends
This world is all about WHO you know. You see, I called up DentesLeo.
I told him my bank wasn't allowed. Without hesitation he paid for the hotel bill. And I sent him the money via PayPal instantly. This was the first time we EVER met in person.
Do you see how powerful having friends around the world is?
Who you are is important. Yet the world is all about OTHER people. When you understand this, making friends and making money will become easier for you.
Most people view life through the lens of ME ME ME. They walk this earth looking to others to help them, feed them, and pay them. That's why they're broke spiritually and financially. Begin seeing this world as an energy exchange.
The more you give without expectation, the more you will get in return. It must come from a good place.
Give people…
> A friend to speak to
> A business partner to profit with
> A person to mastermind with
> A person to depend on
And people will return the same energy. I will end by saying. Morocco 🇲🇦 is one of those countries you instantly feel at home in.
Meaning I will be back to explore more cities.
For now, I am in Serbia 🇷🇸 working on the final touches of the next MBM De-classified. Get caught up with the most recent episode below.
If you'd like to learn more about my new Moroccan friends?
​Here's a book I'm reading now.
It's on power, getting your way, and taking the position you want in life.​
Always the best,
Dylan Madden