New World Ronin Opened My Eyes To Reality and Gave Me The Blueprint To Success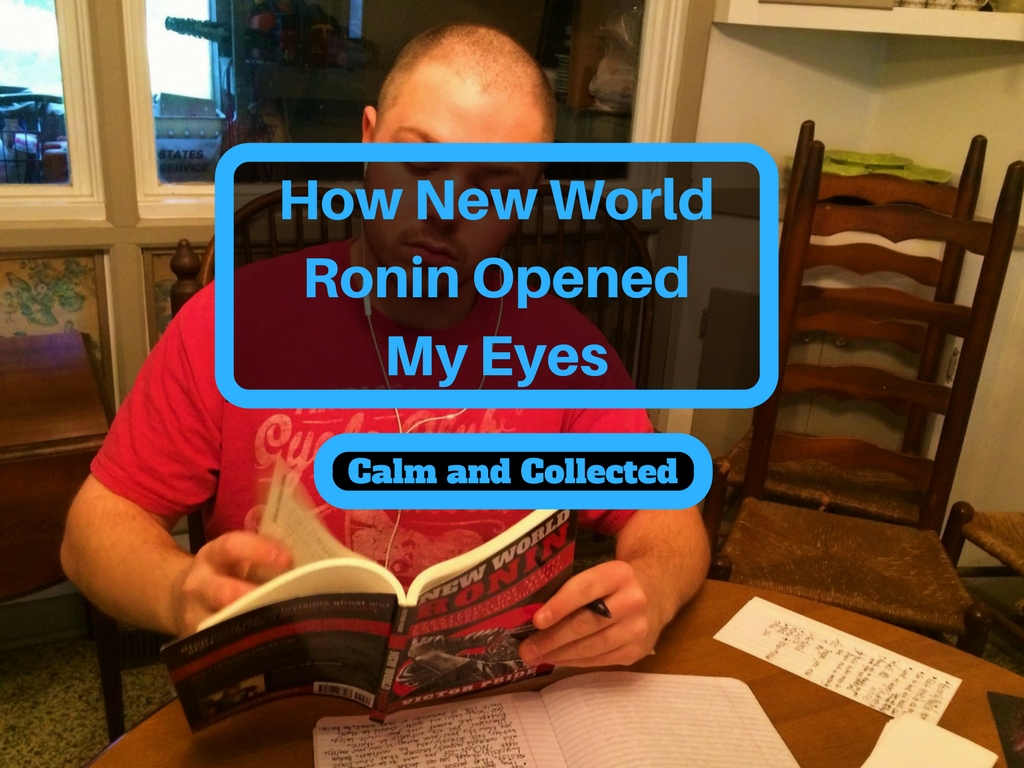 The is less of a New World Ronin Review and more me telling you how my life changed. Not in years, but within a moment.
So re-wind a week or so ago and I was laying in my bed. For those who don't know, I'm from Charleston, SC.
As I laid there I felt stuck. Nothing seemed to be changing for me.
Same sights day after day. I was free from a 9-5 job but still couldn't travel. The gig I had required me to take care of 3 properties 6 days a week.
From those 3 places I was making $480/week. Bills were paid and I still had money left over to save.
At this time I felt like I was going to be doing this gig until mid-2017. If I could just save up until April, I would have a decent chunk of change saved up.
When I quit my job April 2016 I was focused on not having to depend on a 9-5 ever again. I quit my job and drove for Uber.
Being an Uber driver was a lot of fun. After a month or so the money wasn't worth it. Mainly because I only drove during the day and not at night.
I ended up finding out about these 3 properties that needed taken care of. The pay was good and I would be done by 11AM. Not bad I thought. The only issue was that I couldn't travel any.
After a while I started wanting to step away from everything. Since quitting my job, my life changed fast. Things changed and after a while I didn't really know what exactly I was going towards anymore.
Then I started to feel like re-branding Way of The Olympian. I had a branding issue and then I felt limited to what I could write.
The branding issue was I've had lots of people think I was a fitness related sight. Of course my site isn't one. Most of my articles are about mindset, breakthroughs, and making money as a young hustler.
Secondly I felt limited because of the label that comes with Olympian. When I hear Olympian I think Greek god. I felt that I had to write more of that type of theme.
Of course writing with that theme wasn't hard for me. Writing comes naturally and I can easily take inspiration from my life. The issue was that I wanted to write about anything and everything that I wanted.
If I wanted to write about Lil Wayne or mindset, I wanted to feel like I could.
Now I know that it was myself holding me back and not a name. That's how most limitations are in life. They are really just yourself.
To figure out everything, I decided to step away for a month. I wrote daily, but didn't publish to my website. Within 6 days I had wrote over twenty-nine thousand words.
I had never wrote that much in that amount of time. At most I usually wrote seven to 10 thousand words in a month.
During that month I hardly thought about business. Not thinking about business was hard for me.
I went out and enjoyed myself which was something I usually didn't do. I met some cute girls and spent time doing my thing. Nothing serious just living everyday seeing what I truly wanted from life.
I ended up realizing that I still wanted the same things. Partying and chasing girls wasn't my thing. I'd rather be building my business, changing lives, and living a life of financial freedom.
All of this leads to that fateful day laying on my bed. I knew exactly what I wanted to do and was just wasting time here.
It was as if I was a deer in the headlights. Standing there knowing where to go, but just standing there wide eyed waiting to die.
I decided that I was going to impose my will. Looking at my life, I didn't have much to lose. I could lose my car and not be able to pay for other bills.
While this scared the shit out of me I made the decision to book a plane ticket. It cost me 860 something dollars. It hurt to hit the purchase button, but it was now or never.
Two or so hours later I found myself on an airplane. My destination was Seattle, Washington. From there I'd go to Los Angeles.
Once in Los Angeles everything felt unreal. I was standing on the West Coast in a city I had dreamed of going to.
It was at that point that I realized that all it takes is one decision and your life is changed forever. Life is simple and once you understand the fundamentals, everything else falls into place.
I spent my days writing, networking, and living life. Venice was one of my favorite spots other than the homeless people. Hollywood wasn't as impressive as I thought it was in my head.
Later when I got a copy of New World Ronin everything clicked. It was as if New World Ronin and myself met at a crossroads in my new life.
As I read New World Ronin it was like reading a war strategy book for succeeding at life. It gave me all the tools I needed to build my website into a powerful brand while helping people.
Not only that but it helped me understand who I really was. I realized how I could truly build my website into the brand I wanted it to be.
All I have to do is be myself and my brand will expand. The more myself I am, the more people like you relate to me.
The more someone relates to me, the more we click. As people start to click with you, that's when y'all become a clan. You help them and they help you.
Yes New World Ronin gives you what you need to succeed. Yes it also gives you a business plan that got Victor Pride (Nick Kelly) a million bucks.
What New World Ronin really gives you is meaning. When you read NWR and start acting on what it teaches, you join an army.
Instead of just being some random blogger or young kid finding his way, you become a soldier of the mission. I can see the New World Ronin movement taking off in big ways come 2017.
Heck it's already happening. Lots of young ronin are paving their way.
If you are like I was and feel stuck and like you lack direction, do yourself a favor and start reading New World Ronin today.
Like me you can change your life with one decision. Buy this book and then apply what you learn as soon as possible.
Tune in next time for some more…
REAL DEALIN' With The Real Dylan