How to Make Money As a Game Commentator
Today we are going be talking about how to make as a game commentator.
Most game commentators are leaving money on the table. This is where you'll come out on top.
Both with more money and more fame.
If you've been doing game commentating or plan to get start. Here is where you're messing up.
The problem is that you are trying to do it like Pewdiepie, Markiplier, or whatever the other big name commentators are.
You can't play the game like they do. They have deals with corporations such as Disney.
This opens them up to sponsorship among many other things. They get pro level support and chunks of money from them.
Follow this post and you will get sponsorship's down the road as well.
It doesn't matter if you have 50 subscribers, 400 subscribers, or 10,000 subscribers, all of this stuff applies to you.
You're going to start leveraging your video views. Because obviously you can get way more video views than you may have in subscribers.
Your views are really what matter for what we are about to go over. Yes, your subscribers are crucial, but they will come.
For now we are going to leverage your views.
First off you need to forget about YouTube ads. That's jump chump change. Personally, I'd rather people just know about my brand and buy my products
I'm probably never even going to worry about having ads enabled on my channel. Once I pop 100,000 subscribers, you'll be seeing my own ads.
I want all of the eyes on me. If you're come to watch a video from me then you don't care about anything else at the moment.
Instead of betraying the viewers trust, I give them what they want. This is the same thing that you will do.
The people are coming for you. Nobody else.
As a video game commentator, you've got to be more broad.
You've got to be bigger than just video game commentating.
People want a full character, they want a full personality that they came come and consume your content.
They are going to come and watch you play video games, but they're also interested in stuff that you recommend.
Begin recommending affiliate products. Affiliate marketing is something that is huge with making money online.
Let's say I'm an affiliate for Amazon and I want to promote iPhone's. I'll talk about how amazing the iPhone is.
From there I'll drop a link in the description telling you about it, you click it, and I get paid. That's how affiliate marketing works.
I don't believe video games have affiliate programs.
This is where thinking bigger comes into play.
Start vlogging about your day to day life, and then from there, recommend different things that you're trying.
You could review my book, Think and Go Hustle, which you get a 70% commission for per sale.
You can join my affiliate program here.
You could even talk about the supplements that you use like protein powder etc.
Down the road merchandise will come into play. Go ahead and get some swag to build up hype.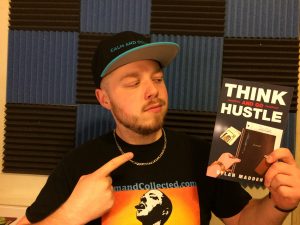 Take my picture as an example. I'm a walking billboard.
If you see me in public I'm always rocking my hat.
You'll find me in a cafe with my book on hand as well.
Why? Because I'm bigger than just a writer.
Just like you are about to be bigger than just a video game commentator.
If you can't think bigger than video game commentating.
You're not gonna grow, and you're not going to make any money. Sure, you can sit around and just hope….
Once I finally hit 100,000 subscribers or a million subscribers or two million subscribers I'll finally start making money!
But realistically that could be two, three, or five years from now.
You've gotta figure out if you're doing this as a business, which you should be. Otherwise, it's just a waste of time.
Start taking the money side seriously. Broaden your horizon.
Do your video game commentating a few times a week to bring in the audience and then keep them with your vlog style videos.
From there bring in some cash from your review videos.
All of this is going to bring in even more people. They may or may not like your video game commentating.
But if you give them good content….
What are they gonna do?
They're gonna buy the products that you recommend and then more than likely subscribe to you.
All of this is how you will make money as a video game commentator. All while building up your audience aka fame.
If you have any further questions leave them down in the comment section below.
If this post was helpful be sure to check out my other video's and subscribe. Click here to head over to YouTube.
Your friend,