Cam Awesome's Story From Boxing To Speaking
When Dylan was kind enough to allow me to be a guest on his website, he asked that I write "Your story on deciding to go Monk mode, hustling, and where you are going." Instead of being clever with this, I'm going to just go straight through his request, exactly as he laid it out. And yes, I plagiarized the entire first paragraph from Kyle Milligan's post on Calm and Collected.
Kyle Milligan is a crazy person. He quit his job with nothing but an unclear vision. Kyle figured if he lived like a Monk he could survive for a year on his savings. So on February 16th, 2016 he quit his job.
I wasn't okay with being a crazy person. When my podcast cohost Ed Latimore asked me what my source of income was, I didn't respond to his text.
I woke up to an article Ed tagged me on from Calm and Collected. It was Kyle's entry discussing quitting his job with no clear plan of what to do.
Though mostly frantic chaos, for a second I was, dare I say, I was "Calm and Collected". I am not the only crazy person.
I will now share my story of stupidity and struggle.
MONK MODE
I had little ambition of doing anything other than fitness the first time I walked into a gym. I was 16, under-confident and overweight. Less than two years later I qualified for the 2008 Olympic Trials. Though I lost in that tournament, I found my calling.
I won the 2008 USA National Championships and traveled around the world on the national team. I had never really traveled before boxing so this was quite a change of pace for the once anti-social awkward kid from Long Island, NY.
For four years I traveled with the USA National team. I dropped out of college to chase this dream of the Olympics. After winning nationals year after year, I won the 2012 Olympic Trials.
I justified dropping out of college with the thinking tha an Olympic medal is worth more than a bachelors degree. Shortly after winning the Olympic Trials I was suspended and kicked off the team for failing to report my whereabouts.
USADA (United States Anti-Doping Agency) requires us to contact them every time we will be away from our house for more than an hour. USADA admitted to having no suspicions of me doping resulting in them giving me the minimum suspension of one year. (The longest year of my life)
After a year of weight gain and depression, I became vegan, legally changed my name to "Cam F Awesome", and returned to boxing because I had no backup plan, education, or skills.
I decided that a good backup plan would be stand-up comedy. (Insert laughter)
As I remained #1 in the country for the next 4 years and performing stand-up comedy, I won the 2016 Olympic Trials only do lose in international competition not qualifying for Rio. I laid drunk in my cramped hotel room in Caracas, Venezuela contemplating what I will do with my life.
July 5th, 2016 I decided I no longer wanted to box. I was going to be a public speaker. Why public speaking? Egh. I figured I had a good story to tell and a stage presence I developed from comedy.
What I didn't have was a clue on what I would speak about or any experience. I figured if I lived like a monk I could survive off my savings for a year.
This is why Kyle's guest-post hit home for me.
HUSTLING
I quickly realized the best way for me to get in the door would be as an athlete-speaker. To be an athlete-speaker I would need to box again.
As crazy as it sounds, I casually decided to win the 2016 National Championships to have "Current #1 Heavyweight boxer" on my blank resume. I would get the added bonus of health insurance for a year by being on the national team, and I would get a scholarship to attend the National Speaker Association annual conference.
I was told to give my speech 100 times before I charged. I found the most efficient way was to make it to 100 would be to contact every teacher I know and take over their class for the day. I would give the same 40 minute speech 7 times in a day. I am now well over 200. I speak on "Efficient Resilience". How to comeback stronger and better using time management.
I speak to corporations on goal setting and time management. I speak to schools on anti-bullying, suicide prevention, discipline, drug-free living, career choices and a few other topics.
I have created a website, the highest quality video that my current finances will allow, a one-sheeter, business cards etc. I don't know how to monetize it yet but I am consciously growing my following through social media and philanthropy.
I have a podcast called "Awesome Talks" available on Spotify, iTunes, Google Play and iHeart Radio. I reach out to any and everyone to be a guest on their podcast to grow my following and sharpen my message.
I spend my days cold-calling events I find on EventBrite to see if they have secured a speaker or entertainer. I spend my evenings at Happy Hours Network with everyone I can. I spend my nights writing content on the 6 foot by 5 foot reversible dry-erase board in my bedroom.
I found that the goal of financially supporting myself within a year of speaking is a difficult one. The last 27 days of every month is filled with panic on how I will cover rent on the first. I sell products that sponsors give me. I will take Kyle's strategy of selling furniture to cover rent for the remainder of my lease.
(4 Ways to Make Money For the Young Hustler)
WHERE I AM
I am here. Here is where I don't want to be. Here is the Struggle Bus. The fourth part of this article "WHERE I'M GOING" will be blank because I have no clue where I'm going. My direction changes with every new person I have coffee with. I continue to learn and adjust my strategy at every corner.
I lie to myself every morning in order to get the strength to get out of bed. I don't have trouble waking up because I can barely sleep anymore.
My funds are low and there is no longer a safety net. I'm frustrated and feel like I'm not getting anywhere. I find peace in being able to do what I want by ignoring the fact that doing what I want isn't working.
I have to buy all of the motivational shit I'm selling but the fact that I'm still motivated means my product is valuable.
I can easily sign a contract and become a professional fighter but that isn't appealing to me. I don't love boxing anymore.
Because I dislike the thing I'm good at, I understand I will have to get good at something I like. Working a 9-5 job would make me miserable.
Why would I attempt to speak to corporations on workplace motivation knowing I've never had a job other than as a Waffle House cook?
I don't know. If you find out let me know.
If you've made it this far into this post, you're probably thinking "Why don't you just get a job and work your speaking career on the side?". Well…because that leaves room for failure…and fuck failure. I'd much rather swing for the fences and strikeout than to settle for a grounder to first.
WHERE I'M GOING
………..
---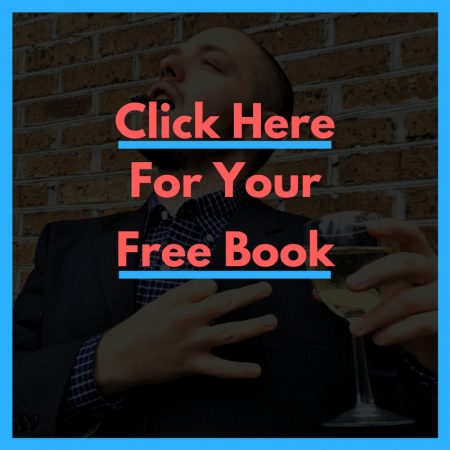 Did You Enjoy This Post?
If so, join me for Daily Emails jam-packed with lessons. We don't dream, we set goals, and hit them in record-breaking times.
Sign up below.